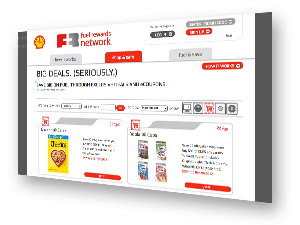 Once you've signed up for the Fuel Rewards Network program and linked your participating FRN™ grocer's rewards card to your account, you can select from all available eCoupons each month. Your selected eCoupons will load to the participating FRN grocer's rewards card linked to your FRN Account. You can also select eCoupons using the FRN iPhone® or Android® Mobile Apps (coming soon).
Fuel Rewards savings earned on eCoupons items vary per eCoupon -- so refer to the eCoupons page or the FRN Mobile App for specific eCoupons offers and details.
SELECTING eCOUPONS
Once you purchase the selected eCoupons item(s) from a participating FRN grocery store using that grocer's rewards card, the associated rewards will be added to your cumulative Fuel Rewards savings balance for the FRN. You can track your available Fuel Rewards savings earned through the eCoupons program on the 'My Rewards' section of the 'My Dashboard' page after logging in to your FRN Account.
(Note: The total purchase amount of your receipt does not change at checkout, and the fuel savings are not printed on the receipt)
EXPIRATION
Fuel Rewards savings earned through the eCoupons program expire on the last day of the month, two months after the month in which they are earned. For example, Fuel Rewards savings earned on April 15 will expire on June 30, and Fuel Rewards savings earned April 30 will also expire June 30. The reward expiration period begins on the day Fuel Rewards savings earned through an eCoupons transaction posts to your FRN Account. For example, if you purchased an eCoupons item on April 25, but the rewards didn't post to your FRN Account until May 2nd, the rewards earned from that eCoupons transaction would expire July 31.
AVAILABILITY
eCoupons program availability varies by market. Currently, the eCoupons program is only available for use at participating Winn-Dixie, BI-LO, Pick'n Save, Copps and Rainbow grocery store locations.
Search for participating eCoupons locations. eCoupons and participating eCoupons program locations can also be found with the FRN iPhone App (coming soon).