Winn-Dixie Everyday Offer
Earn 5¢/gal for every $50 you spend on qualifying Winn-Dixie purchases using your Winn-Dixie Reward Card. Earn even more rewards on bonus items throughout the store.
More Ways to Save
Link your Winn-Dixie Reward Card to the Fuel Rewards Network for more ways to earn rewards and even bigger savings at the pump!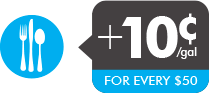 Dining
Eat at more than 10,000 participating restaurant, bar and club locations.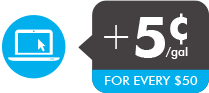 Shopping Online
Find hundreds of name-brand merchants through the FRN Online Mall. Some offer 2x, 5x, or 10x rewards to multiply your savings!
MasterCard® Grocery Bonus
Link your MasterCard to your FRN™ Account and earn an additional bonus when you shop at Winn-Dixie.
MasterCard® Limited-Time Offers
Link your MasterCard and take advantage of other special limited-time offers brought to you by MasterCard.